Learn How To Skyrocket Your Search Engine Ranking!
Get your FREE search engine optimization guide with hundreds of "killer" search engine tips and tricks -- A $67 VALUE! 200+ pages of search engine strategies all FREE to immediately download! Trust me, it works!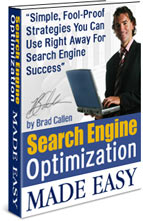 ---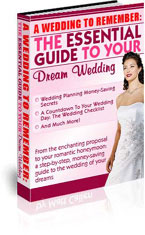 Earn a whopping 50% Commission per Sale! Conversion ratio of over 4% on targetted traffic!
Want to make some extra money? Our affiliate program is an AMAZING way to put some extra cash in your pocket.. All you have to do is sign up below and place a link or banner on your website which will be provided to you upon signing up. When a visitor clicks on the link they will be directed to our sponsors "A Wedding To Remember" website. Once the visitor purchases the eBook YOU will be credited 50% of the total price of the eBook. It's very easy and can be extremely profitable to you.
I personally have the eBook and it is a great product and it does actually work so you will have no problem recommending the eBook.The advertising is all up to our sponsors. All you have to do is place a link and get visitors to click on it.
Feel free to use the graphic above as your graphic for attracting visitors to click on your affiliate link after signing up.
To add the eBook graphic just "Save Picture As..." and then insert into your webpage to attract visitors.
---
At the end of every month you will receive a check from "ClickBank" (Our representative) for the amount you have earned. You may check as often as you want to see how much money you've currently made by logging into ClickBank. It's very simple and easy to use.
Click HERE to become an affiliate now! You will be directed to "ClickBank" and will be prompted to fill out a form stating who to make the check out to at the end of every month.
If you are already a clickbank member simply follow the directions on the ClickBank page you were directed to by clicking on the above link. Enter your username into the box when prompted.
If you are not familiar with "ClickBank" send me an email and I'll explain everything you might want to know. info@dreamweddingplanner.com
Click HERE to become an affiliate now!
Frequently Asked Questions:
1. How long does it take to get everything set up? It only takes about 2-3 minutes to fill in all of the information. It's very easy and straight forward.
2. How much money should I expect to make?
It really only depends on how much traffic you generate at your website or how well you "sell" the eBook. The more effort you put in, the more money you'll make. $1000 a month would not be an unreasonable amount if you put some dedicated effort into it.
3.Does my website have to be related to wedding planning? No. It obviously helps if your website is related, but it doesn't matter. All that matters is how you present the link on your website.
4.What if I don't receive my check? You will be able to check your account status at Clickbank.com at any time to see how much money you have made. If for some reason you don't receive your check send me an email and I'll try to help you out.
P.S. This has never happened.
Here are some wedding planning guides we feel confident in recommending. Click below to read our reviews: