How Do You Want Your Wedding Cake?
By Matt Callen
Countless receptions have centered on the wedding cake. And, why not? It tells a story about the tone of the wedding - formal, light-hearted, themed - and it brings a delicious end to the occasion. Besides wedding dresses, wedding cakes are one of the most important components of weddings.
The wedding cake is, without a doubt, the centerpiece of the reception and the most talked about decoration. Failure to take the many aspects of choosing a wedding cake into consideration will almost surely result in disaster.
Today, couples have many choices for their wedding cake. Not only does the cake not have to be white, but also it can be composed of different flavors in the different tiers. As the tradition has swung away from the all white cake, flavor and external appearance has become much more important. Today's cake designs reflect a more modern style, some very simple and understated, others very elaborately decorated. Just like the other decorations at the reception, the wedding cake should be a reflection of the bride and groom's sense of style.
The shapes of wedding cakes include round, oval, hexagon, heart, and square - to name a few. Many brides are still choosing tiered cakes, whether on pillars on not. Tiered wedding cakes are usually seen in levels of anywhere between three and five.
The traditional wedding cake flavors are either white or yellow, while leaving chocolate for the groom's cake (that is, if one is provided). It is becoming quite popular to decorate wedding cakes with fruit, along with the lavish flower and icing designs.
What colors are available? As I previously noted, most wedding cakes are white, but there are various shades of white - ivory, butter cream, pristine white, etc. In addition to the main color of the cake, there are also accent colors to consider. Many brides choose to incorporate at least one of the wedding's colors into their cake decorations.
When choosing your wedding cake, I certainly recommend browsing through bridal magazines, online websites, and even bridal shows where you can taste cakes firsthand. However, before you begin this search, I suggest you take a few minutes to read through the list of ideas, steps, and money-saving tips I have provided. If you don't have a clue where to start, this is the place! Good luck and enjoy!
§ Visit as many cake makers as you can. Similar to choosing a photographer, ask to see samples of previous work done - and get a tasting of their cakes. If they have a website, check out the designs they have available
§ Reserve a cake maker in plenty of time, especially if you want a personal and special creation - which most couples do. As with any service a good decorator will get booked quickly.
§ Get the details of your order in writing - normally a deposit will secure your order.
§ Calculate the number of cake slices required, not forgetting to also allow for giving to absent friends and relations.
§ Do you have a wedding theme that the cake can reflect? Remember to personalize the cake
§ Would you like to coordinate colors on the cake with those used in wedding flowers or the brides dress?
§ Cake recipes can usually be tailored to suit special problems (e.g. nut allergies) so bear this in mind if you know this could cause a serious problem for anyone.
§ Be sure to ask if stands/pillars, boxes, and delivery are included in the price. These little extras can add to the cost of your cake when you least expect it! Be aware, high prices are not a guarantee of quality.
§ Ask about delivery details. When will it be delivered? Give the phone number and name of your reception venue to the cake decorator to avoid any confusion - especially for large reception halls who may be dealing with more than one wedding on that day.
§ Insist on having what YOU want. If the cake maker tells you something is "fashionable", but you don't like, make sure you speak up. This is your wedding, not theirs.
§ Don't forget to ask for a viewing date to see your finished cake; you don't want to be surprised on your wedding day!
Money-Saving Tips Coming Your Way!
1) Consider purchasing your cake from a non-commercial baker who works out of his or her home.
2) Don't have a groom's cake.
3) Keep the decorations simple. Don't go overboard with elaborate decorations - many times the most elegant cakes are the simple, personalized ones.
4) Order an elaborate, smaller "display" cake for the ceremonial cake cutting. Then have sheet cakes of the same recipe made to serve the guests. This is what my wife and I did, and it really fit into our budget!
5) If you prefer an elaborate cake, ask your baker if you can provide some of the extras like flowers, ribbons, or other decorations easily available at cake decorating or pastry shops.
6) You can also consider having a small cake for the ceremonial cake cutting and decorated cupcakes at each place setting. Decorated cupcakes can also be set at the cake table, stacked on a tiered server of some kind. Cupcakes are a great idea if you are not into lavishly decorated cakes and are on a budget. Yet another way to personalize your reception!
7) Consider asking for a cake topper on your gift registry or as a wedding shower gift. Make sure you are clear on what type of topper you want!
8) Order less cake if you plan on serving a dessert in addition to the wedding cake, or are having a sweets table. In such a case, offer fewer servings of your cake and serve smaller portions.
9) Many couples save the top of their cake to eat on their first anniversary, yet don't eat it because after a year in the freezer, it tastes horrific. With time the quality and appearance of the wedding cake also lessens. Nevertheless, if you want to preserve the tradition, try keeping just one or two pieces of the top tier and not the entire section.
Just remember, that even though it seems there are millions of decisions to make when choosing between wedding cakes, the ultimate deciding factor should be the perfect cake YOU envision at your wedding.

Learn the secrets to planning the wedding of your dreams - without the extra costs of hiring a professional Wedding Planner. Find out how we saved money and attained our fairytale wedding at the same time!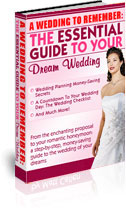 Click here to learn the secrets.