What are the steps to planning a wedding?
Wedding Planning Ideas and Guidelines
By Ken Austin
Wedding planning is a difficult task for everyone. Unless you have done it before, you don't know all the answers. But, you can find them! By far the most important thing to remember about wedding planning is that it should be enjoyable. There is no need to work yourself up over the small details of the day. Instead, spend your time planning a wedding that is perfect with your loved one by your side. You will find invaluable resources to guide you along the way. Wedding plans are actually one of the first major decisions couples have to make within their lives together. So, breathe a little and smile a lot! You did it! You are engaged! It's time to start your wedding planning. But, where do you start? Who do you talk to? Where do you go to find everything? There are many questions floating through your mind. You're worried about planning every detail. You're thinking about so much all at once. The first thing you need to do is to breathe! Begin by picking your date. Of course, everything else will be centered on this fact. Once you know when it will be, you can start planning the wedding of your dreams. To do this, you will have to know your budget though. Sure you can dream big and plan big things for your wedding, but unless you can afford to pay for it, it's senseless to do this. Instead, wedding planning should be centered on a budget that you create for yourself. Some people choose to use credit as a means for having the big wedding of their dreams. For others, simplicity is much more important. Talk about this and make sure that you and your fiancÚ are on the same page. Then you come to all the other questions. The who, what, where, and how's of the wedding plans. Each person, though, is going to have their own ideas and thoughts. It is important to find a way to compromise so that you can both enjoy the experience of planning a wedding. Talk about your family's traditions, your wishes, and your ideas. Talk about the people who you want to have in your wedding party. Think about the cake, the favors, and the napkins. You can decide if you want to write your own vows. Where will the wedding take place? Will you invite your entire family or will it be a small simple ceremony with a larger reception? Oh, the options are just endless! When it comes to the details, you have many options. First, you can organize all of your thoughts and ideas in a journal. Or, you can invest in a wedding planner, again something that will need to be budgeted for if you use it. Or, you can find and use any of the websites online as a guide to wedding planning. You have many resources at your fingertips online. You can organize each area of your wedding plans simply, easily. Then, you can take a step back and think about things, make changes as necessary, and be content with the end result. By organizing here, you will make the wedding plans much smoother, much easier to handle.
Get Organized for Wedding Planning - by Stacey Agin Murray
Learn the secrets to planning the wedding of your dreams. You'll be amazed with the beauty and ease of having the wedding of your dreams without the extra costs of hiring a Wedding Planner. Find out how we saved money and attained our fairytale wedding!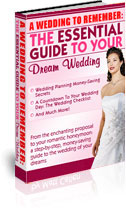 Click here to learn the secrets.