How much does catering a wedding cost?
Wedding caterers usually charge for catering on a per head basis. So the cost of your wedding catering will depend on the number of guests that you expect to have at your wedding. Some other factors that can influence the cost of catering are:
Type of food: If you have regular American fare at your wedding then it will cost you a whole lot less than if you go in for any exotic or international cuisine such as French, Mediterranean, Thai or perhaps even Indian. The number of dishes that you wish to have will also affect the catering costs. If the caterer is in charge of the wine and the wedding cake, then your catering cost will increase as opposed to if you were taking care of these items on your own.
Type of catering service: If you want to have a sit down dinner where your guests are served by waiters then it is likely to cost you more than having a buffet style of catering. Even in a buffet if you need people to serve the guests instead of the guests serving themselves, then your catering costs are likely to increase. Whether the hors d'oeuvres are to be circulated or kept stationary for guests to help themselves will also affect your catering costs.
Set up and Clean up: Most caterers have the set up and the clean up included in the per head costs. But if these are to be charged extra, then your catering costs are bound to increase. Also if the caterer is in charge of supplying the required linen, silverware, china, glassware, and serving dishes, then this should be included in your basic catering cost and should not cost you any extra money.
Children: Most catering services have special rates for children, which helps to reduce the catering cost. Ask your caterer about any such discounts and reduced rates for children. Inquire about any overtime costs, gratuities or taxes that may all have an impact on the final cost of your wedding catering.
Learn the secrets to planning the wedding of your dreams. You'll be amazed with the beauty and ease of having the wedding of your dreams without the extra costs of hiring a Wedding Planner. Find out how we saved money and attained our fairytale wedding!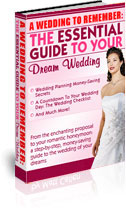 Click here to learn the secrets.