What are the top trends in wedding planning?
Wedding planning this season is wild and hot. Here are some of the top trends.
Personalization is in! The trend is towards creating a couple logo and having it reflected in all parts of your wedding planning.
Music is wild! Thinking about a DJ or a band? The trend this year is to not have either but both! Have different types of wine to go with the various courses on offer. Your wedding could double up as a wine-tasting event, which I'm sure will be appreciated by all your guests. While selection of drinks is getting wider, the food is getting smaller.
The trend this year is towards serving mini foods and foodlets. So get all your food favorites made in mini and manageable sizes. The same does not hold true for desserts. Gone are the days when the wedding cake alone sufficed as dessert. This season is seeing a lavish spread of delicious and mouth watering desserts; in addition to the cake of course!
'Variety is the spice of life'. This saying seems to be reflecting in wedding planning as well. Matchy matchy stuff is out. People get tired of seeing the same colors and theme reflected everywhere. The trend this season is in having a mix and match of different colors and themes for weddings. Perfection seems to be in imperfection this season!
The trend is now shifting back to having child friendly weddings. You could hire some amazing entertainment for the kids, such as magicians, clowns, etc and while they are having their fun, the adults can have some of their own. If any or all of the above trends are a bit much for you, you could stick to the more traditional manner of wedding planning. There is nothing better than a traditionally romantic wedding, no matter which season it is.
Learn the secrets to planning the wedding of your dreams. You'll be amazed with the beauty and ease of having the wedding of your dreams without the extra costs of hiring a Wedding Planner. Find out how we saved money and attained our fairytale wedding!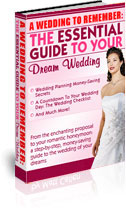 Click here to learn the secrets.